EUCLID ART ASSOCIATION

June 5, 2017
Members' Art Critique Night with George Kozmon


At our very popular Members' Night Critique, George Kozmon, an internationally collected artist best known for his monumental architectural paintings, was the art critic for the evening. George's artworks have been widely exhibited and critically acclaimed throughout the US and abroad. He is a graduate of the Cleveland Institute of Art and lives in Gates Mills, OH. He also participates in IngenuityFest. George tells us that he does a little of everything, but now he works large, very large. He is currently working on an 8ft by 20ft mountain image on wood panels using acrylic and colored pencil....or 'whatever works'. We thank George for sharing his artistic insights with us.

Before George could start his critique of the over 25 pieces of artwork that members brought to the meeting, Lee Peters held a brief business meeting and Joan Milligan swore in the EAA'S Officers for the 2017-2018 season. Thank you, Sandi Richards, for becoming our new treasurer.

George was challenged to get through all the artwork critiques in the time allotted....as is the case at every June critique meeting! Members' feedback....excellent job, one of the best critiques that we've had! Not only was he informative and constructive in his criticism, he was very entertaining. He would be an excellent judge at our next Library Show. George would point out 'things' that most of us did not immediately notice. Once we saw it, we understood what he meant. Here are some comments he made while reviewing the art: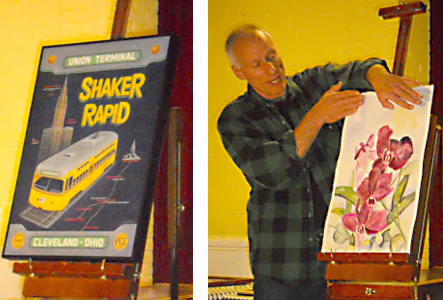 • Your job is to manipulate the viewer in the space.
• Color, texture, form, patterns, they all tell the story.
• Your eye goes to where the contrast is most intense.
• Eye also goes to where tangents are...tend to flatten out the space.
• He calls himself a watercolor purist. In Ellen's plein air watercolor, he suggested the horizon be raised or lowered.
• Need good perspective....perspective needs to be precise.
• In Juanita's watercolor, the two main objects in the painting appear to be the same size, make either the flag or the fence post bigger. We didn't notice at first, until George pointed it out! Also, take the tree off the paper and let more of its dark branches go behind the flag.
• Loved the deckled edges of handmade paper on Marguerite's flower painting. He suggested the picture be framed to show off the edges.
• Watch out for dead corners in your painting, where nothing is happening. It tends to attract attention.
• etc., etc., etc.....
| | |
| --- | --- |
| | After the critique, the 32 members in attendance enjoyed a "Garden Tea Party". We thank Sue and Tom Herrle and Karen VanLinge for the evening's refreshments......pinwheel finger sandwiches, veggie tray & dip, homemade pimiento spread w/crackers, American Flag of fresh fruit with chocolate dipping sauce (in honor of Flag Day, June 14), lemon yogurt cake and DiStefano's cookie tray. Did you notice how quickly all the broccoli disappeared from the veggie tray? Ask Jaden where it went! |