EUCLID ART ASSOCIATION


January 9, 2017 - Members' Night 'Show and Tell'

Gerry Shamray


Gerry Shamray, our first presenter, joined Euclid Art in 2016. We learned a lot about Gerry in his 20 minute power point presentation. He is an award winning illustrator/designer and cartoonist and now a digital artist. He was always drawing as a kid, loved comic books and even learned to read from them. Superman was his hero. He calls himself the Dr. Jekyll and Mr. Hyde of cartoonists....one side being very whimsical and the other very disciplined with tedious line drawings. Young Gerry was asked by the infamous, Harry Pekar, to do comic illustrations for Pekar's American Splendor, at the time considered to be an x-rated comic book. "How do I tell my parents?" he quipped.

Gerry says that the technology available now is amazing and he loves using it. These pictures tell the Jekyll and Hyde story of his art. He loves drawing cats and did a series of the Mad Catter. He also loves Frankenstein. He'll start in black & white, then color it followed by a line drawing.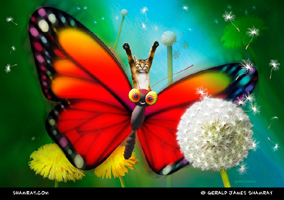 He says that he gets emotional with his work as everything has a back story...like this very detailed digital drawing of a Paris street scene. The man reading the paper in the foreground is his dad, eyeing the lovely lady a table away...his mom.

There is no end to his talents. He wants to write children's books and is dabbling in animation, too. Gerry had the audience enthralled from the start....wanting to hear more. Prints of his work can be ordered from The Art Gallery in Willoughby.