Our
annual Christmas Party and Chinese Auction Fundraiser was held on December 7.....
"It was 100% positively a delightful evening....food, friends and auction!"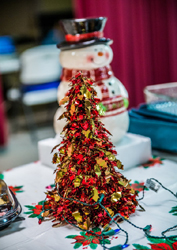 That's what our members are saying about Euclid Art's Christmas Party and Chinese Auction Fundraiser held on Monday, December 7. The Fellowship Hall of the East Shore Church was transformed into a magical, sparkling space by the time the party started....62 members and guests attended. The Christmas music added to the atmosphere in the room, as did the red and white poinsettias. Our president, Lee did a great job reciting the Night Before Christmas and the audience participated energetically!

Lee gives everyone a giant Gold Star....including all our membership who followed our request for more entrees and salads! We had a great assortment of salads, sides and so many entrees, from stuffed cabbages, sauerkraut and sausage, chicken casserole, stuffed shells, mac and cheese, etc..... and the honey baked ham was exceptionally good.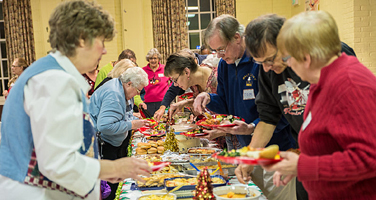 Heard comments on how nice it was to have so many veggie and salad options. We even had enough yummy desserts...from delicious homemade peppermint brownies to tasty apple dumplings, among many other tasty delights. The coffee from Lakeshore Coffee House was so good that it disappeared quickly! We had several requests for recipes....kale salad, cranberry punch, curried cheese and chutney spread, Lee's spinach spackle dip, which we will be posting here, soon.

Thanks to everyone who helped set up the tables, decorate, and serve.....Lee, Sue and Tom, Sandi and Dick, Joanne, Mary Ann, Deb, Fritzi, Linda. Special thanks to Dennis McDonnell for taking all those lovely pictures. You can see his party pics at http://www.pbase.com/tileman533/euclid_art_christmas_15.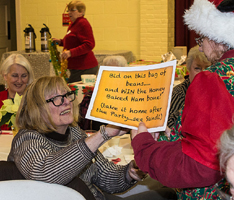 And, thanks to the auctioneer team of Rozenia and Beth. Joanne, Mary Ann and Deb did a great job on setting up the auction. Thanks to all who brought items to be auctioned and who bought tickets. We made a lot of money for our education fund, the most ever in our club's long history! Mary Williams was delighted to win the ham bone and bag of beans. And, Marguerite Carlson did not win the Eddie Mitchell painting this year....Linda McGreevy did. Sue and Tom were the lucky winners of the Mario Fazio gift basket!

We thank all our local merchants who donated items to our Chinese Auction. Please let them know how grateful we are by frequenting their establishments:
Bronko's Beverage, 510 East 200th Street, Euclid, OH 44119
Dog Daze Grooming Salon, 778 E 200th Street, Euclid, OH 44119
Driftwood Gallery, 450 East 200th Street, Euclid, OH 44119
Heinen's Fine Foods, Inc. 4540 Richmond Road, Warrensville Hts, OH 44128
Lakeshore Coffee House 22032 Lakeshore Blvd., Euclid, OH 44123.
Mario Fazio Restaurant & Catering, 34400 Chardon Road, Willoughby Hills, OH 44094