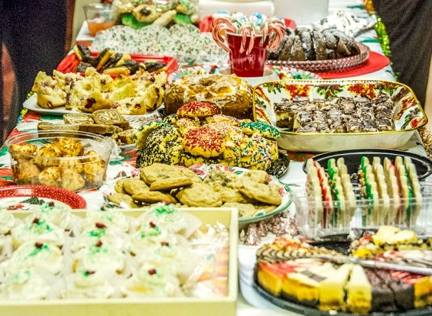 Our 2014 Christmas Party, Potluck Dinner and Chinese Auction Fundraiser was fabulous! About 60 members and guests enjoyed an evening of fun, food and friendship. Dennis McDonnell took a lot of pictures. Thank you, Dennis! You can see all the pictures at http://www.pbase.com/tileman533/euclild_art_christmas_14

. The pictures tell a nice story of lots of delicious food, especially all those desserts, a fun evening with friends...notice all the happy, smiling faces and lucky auction winners. The club made $392 for our education fund, over $100 more than last year.

Get the most requested recipes from the Christmas party - Sandi Richard's Holiday Punch, Michelle Brown's Butternut Squash Soup with Chiken & Wild Rice. Enjoy!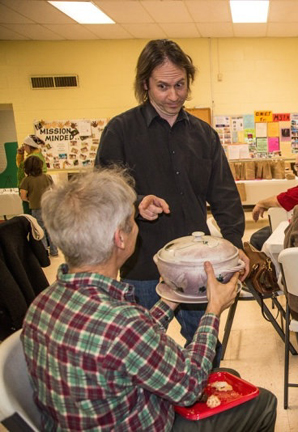 A big thank you goes out to everyone. We had a lot of help in making this a wonderful evening. Special thanks to East Shore Church for setting up the tables and helping with the cleanup, to Carol Coffey and Joan Milligan for helping set-up, to Fritzi Sansbury for the extra decorations on all the tables, to Wali and Denise for serving the punch, to Mike and Ian Wardrope and Beth Kulcsar for conducting the auction and to all the ladies and gents who helped cleanup and take down all the tables and chairs.
A very special thank you to Sandi Richards, our new refreshment chairperson. This was her first EAA Christmas Party and she did a fantastic job. And thanks to the EAA Board members for all their hard work in planning for this event.

We also want to thank our sponsors who donated to this years auction....to Heinen's, Driftwood Gallery, Grovewood Tavern, Petie's Family Restaurant for gift cards/certificates, to Bronko's Beverage for a bottle of wine and to Michael P. Germano and Bethany Schulte for the beautiful gift baskets. Also a special thank you to the Lakeshore Coffee House for all the hot and flavored coffee we enjoyed with dessert and to Leslie and John Calabrese who brought the coffee to the church. Please continue to frequent these establishments.