Demonstration
April 3, 2017
Suzie Murcer - Pysanky/Ukrainian Egg Artistry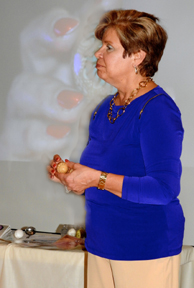 Our scheduled April demonstrator broke his leg and informed us the week before that he was unable to come. And, unfortunately, Lirpa Loof couldn't make it either! We are grateful to Suzie Murcer for stepping in at the last minute and agreeing to be our April demonstrator. Suzie demonstrated Pysanky/Ukrainian egg painting. Considering the circumstances, the timing could not have been better! Over 35 members and guests enjoyed an evening of egg artistry....just in time for Easter! Thank you, Suzie!

Suzie, a wife, mother, grandmother, teacher and artist, lives in North Royalton, OH. She has been in egg shows for the past 24 years and calls herself an "Egger". Her love affair with Ukrainian eggs started at the age of 5 when she would stare at the beautiful eggs displayed in her grandmother's china cabinet.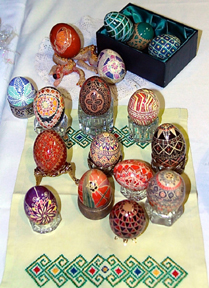 Soon after, she started creating eggs of her own...her father being her biggest supporter. It wasn't until 10 years later, in high school, that she discovered she was doing it all wrong. A Ukrainian art teacher showed her the right way. Suzie studied in France for 6-months, worked at American Greetings and was a substitute teacher. Each Easter she talks to school children about this ancient art.

According to folklore, the traditional Pysanky egg protects your home from fire and lighting. Each line on the traditionally decorated egg represents something....the endless line represents eternity. Designs can include flowers, plants, nature, constellations, stars and animals. Suzie says "it takes precision and finesse to do eggs." Using a technique called 'drop-pull', she drops wax onto the egg and then pulls the wax to create the design. The proper tool used to make the design is called a kiska, a small, hollow funnel attached to a stick. Lighting a candle, warming the kiska in the flame and dipping it into beeswax, Suzie demonstrates putting the wax design on the egg shell. She does her designs free hand, no pencil marks. She then dips the egg into a yellow dye, adds more wax designs, dips it into pink.....repeat and dip into purple working from light to dark. Last step is to melt off the wax using a candle. It's like batik meets Zentangle!
Yes, she also uses brown eggs! She is very particular about the eggs she uses. She's been known to spend hours at Heinen's looking for the right eggs. And, yes, she empties the eggs first, using a special tool, then plugs the hole. Suzie showed us many more eggs and explained the various non-traditional designs used to decorate them.

Thanks to Lee Peters, who projected images of her eggs on the large screen, we all got to enjoy seeing the details of those beautiful eggs

.



The theme for the evening's refreshments was a combination of April Fool's and Easter. We thank our hosts, Joan Milligan, Dottie Geisert and Helen Karpoff for the beautiful table setting and delicious treats. We enjoyed deviled eggs, finger sandwiches filled with cream cheese and cucumbers, hummus and chips, veggies and dip, decorated sugar cookies, and a special dessert concoction of whipped cream and pineapple over a pretzel crust....plus lots of chocolate eggs!